Research Project Development
A core objective of this initiative is to fund and support projects focused on problems caused by environmental threats, be they climate related (e.g., diluvial rains) or epidemiological (e.g., SARS-CoV-2) and that are dedicated to five areas of social engagement, which together form the research core of this initiative. These areas consist of archive recovery, mapping environmental histories, transmedia storytelling, infrastructure studies and resilient futures, and immigrants and refugees. The initiative's steering committee will select project proposals to award with preference given to proposals that promise to spark collaborations with local partners; have tangible benefits to the city; cultivate new scholarly paradigms; or engage multiple faculty or staff members at Rice University and other local universities and colleges.
Archive Recovery: This cluster will support archival efforts that are of importance to the city, preserve histories, and require the collaboration of scholars and cultural institutions. The goal is to preserve materials that demonstrate Houston's evolution with special emphasis on the relationship between the built environment and the growth of urban disasters. 
Mapping Environmental Histories: This cluster will focus on documenting and studying environmental histories such as Houston's long history of flooding, considering that it was developed in the wake of the Great Galveston Flood of 1900 that forced industries to an inland location still accessible to waterways. 
Transmedia Storytelling: This cluster will focus on easy-to-use software such as "Prezi" or more complex platforms such as ESRI's "Storymaps" to enable the public at large to design, share, and participate in a cohesive story experience across multiple traditional and digital delivery platforms. Such narratives can describe or even visually investigate the effects of storms and pandemics and their uneven distribution across the city.
Infrastructure Studies and Resilient Futures: Projects funded under this category would be those that look, for example, at Houston's grey infrastructure (i.e., freeways, strip malls, and parking lots) that have been built over the city's intricate watershed complex and public health infrastructure and that have progressively destabilized this city's social and environmental context. The goal is to support projects that can imagine a city able to survive periodic flooding and epidemiological events with limited disruption and no injustice.
Immigrants and Refugees: This cluster will focus on developing resources for the expansive immigrant and refugee population in Houston, giving them platforms to share their experiences in the wake of climate change, viral threats, and industrial accidents, while bringing awareness of their challenges to the city.
---
2022-23
---
Big, Hot, and Sticky
PI: Maggie Tsang, Dalia Munenzon
Houston is Big, Hot, and Sticky. 1) The metropolitan region is roughly 640 square miles, and from east of Galveston Bay to west of Katy, it is comparable in width to the State of Connecticut. 2) And while the Allen brothers claimed it to be breezy, beautifully elevated, and well-watered, for nearly one third of the year, the city's temperature climbs to at least 90 °F; and 3) 2,500 miles of slow moving, relatively flat waterways crisscross the city creating a swamp-like climate.
From climate control to flood control, many of the environmental problems that Houston residents face today are a prod- uct of urbanization and privatization as well as incompatible planning and design responses and neighborhood disinvestment. In response to these problems, city planners, government officials, and private corporations have sought out sustain- able solutions, innovative data-driven technologies, and green-washing.
These approaches to the climate crisis, however, misunderstand risk as a purely physical and environmental phenomenon. What is needed is a more radical social, cultural, and ecological imaginary that fun- damentally critiques and restructures the way we create and inhabit urban space. This exhibition proposes to showcase critical perspectives on this topic, asking: How do we reshape the city for a more equitable and healthier collective environ- ment for human and non-human life? What if we embrace Houston as Big, Hot, and Sticky? Our objective will be to showcase design histories and future scenarios at multiples scales – from building to infrastructure to policy - that investigate the relationship between the city and the environment.
MESOCOSM
PI: Brittany Utting and Daniel Jacobs
MESO-COSM: Between the Laboratory and the Planet is a proposal for a multi-disciplinary research and design project, as well as a public exhibition opening in the Fall of 2023 at the Hines College's Mashburn Gallery. The project investigates the "mesocosm," which is an experimental infrastructure scaled between the microcosm of the laboratory, and the macrocosm of the "real world." Mesocosm experiments seek to create replicable ecosystems–from forest streams, to coastal prairies, to marine habitats–to study the long-term effects of climate change and other disturbances on ecological processes. Beyond their experimental applications, these mesocosm infrastructures are experiential pedagogical spaces. Located in field stations outside of the campus environment, they create embodied spaces for learning and teaching outside of the classroom, enabling students to explore complex ecosystem relations and fieldwork methods.
---
2022-23
---
Wild About Equity: An Examination of Houston's Biodiversity
PI: The Nature Conservancy in collaboration with the Center for Research Computing's Spatial Studies Lab, Dawson Franklin, Marina Klein, Roxanna Mendez, Sharon Quinn
Our study shows that a Houstonian's socioeconomic status determines how they are able to interact with nature. Specifically, historically disadvantaged neighborhoods have extremely limited access to biodiverse spaces. 
Our research aims to examine the overlap between social equity and biodiversity in different Houston neighborhoods alongside the Nature Conservancy and information gathered from HPARD. We will develop a 'Wild Index' and story map visualization that could be used in conjunction with the ParkScore. Overlapping data we collect using apps such as iNaturalist and eBird from a few select parks and comprehensive pre-existing datasets, we will examine the inequities of green spaces. These visualizations could help build further support for habitat restoration in disinvested neighborhoods, as well as draw attention to these inequities.
---
2022-23
---
As an impervious, flat, and infrastructurally precarious city, Houston, Texas has long been prone to flooding. With the added burden of faulty and outdated wastewater infrastructure, Houston community members, especially those who live in primarily low-income communities of color, are placed at a high risk of exposure to harmful water pollution. Open drainage ditches are a common drainage system found in these communities that are often unable to handle Houston flooding and raise issues like mobility and safety hazards, increased risk of mosquito-borne diseases from standing water, and becoming deposits for other trash and debris. 
Building off of Rice University/Diluvial Houston's Uneven Runoff interactive map that explores how toxic runoff affects vulnerable neighborhoods in flood-prone Houston, D.I.T.C.H. aims to further explore the disproportionate impact of open drainage ditches and sewage overflows in predominantly low-income communities of color. In collaboration with Bayou City Waterkeeper, a local organization focused on clean water, protecting wetlands, and preparing resilient communities, D.I.T.C.H. will consist of creating a map in continuation of Uneven Runoff's work and preparing an advocacy toolkit that can be shared with other environmental organizations, community activists, and Houston residents to understand and advocate for sewage justice in Houston. 
You may access the resources created by the D.I.T.C.H. team by clicking here to access the Story Map and Toolkit. 
Injustice in the Sewers
PI: Mashal Awais and Ayanna Jolviet Mccloud, in collaboration with the Center for Research Computing's Spatial Studies Lab

This project illustrates sewer overflows across Houston, both from the city of Houston's public infrastructure and sewage releases on private property. The basemaps can be used to understand where the sewer overflows (SSOs) occur and the connection between median household income and demographic indicators. The goal of this tool is to allow residents to identify overflows in their communities and to create a visualization that illustrates the inequities around sewer overflows, especially those occurring on private property. Read more about our commitment to sewage justice here.
Wetlands Mapping Tool
PI: Mashal Awais and Ayanna Jolviet Mccloud, in collaboration with the Center for Research Computing's Spatial Studies Lab

This tool serves to allow us to build community capacity to do "wetland watch" in the Lower Galveston Bay Watershed. This tool allows advocacy groups and organizations like ours to quickly identify wetland impact by ongoing developments or other threats to wetland losses in our region and compares data such as updated census and SVI data, NWI Wetland Inventory and FEMA flood data to review and provide a snapshot view of wetland impacts in our region in order for us to conserve our critical wetlands from further degradation and losses.
Critical Ecosystems Story Map
PI: Mashal Awais and Ayanna Jolviet Mccloud, in collaboration with the Center for Research Computing's Spatial Studies Lab

This story map illustrates the diverse ecosystems and wetlands in our region. It lays the foundation for why conserving wetlands is critical especially in a post Harvey environment, as they serve as one of nature's best line of defense against flooding. This story map utilizes ecologic layers based off aerial imagery to identify large tracts of land in the Lower Galveston Bay watershed at risk of loss, and the need to act now to protect our critical habitats and our Texas coastal prairie wetlands.
Flood Investment in our Watershed
PI: Mashal Awais and Ayanna Jolviet Mccloud, in collaboration with the Center for Research Computing's Spatial Studies Lab

Assess different subwatersheds in our region and compare against major storms such as Harvey damages. Identify ways to put a dollar figure to losses at the subwatershed level and create new insights for investment recognizing the inequities in disaster recovery and creating visualizations to bridge gaps in disaster mitigation and disaster recovery.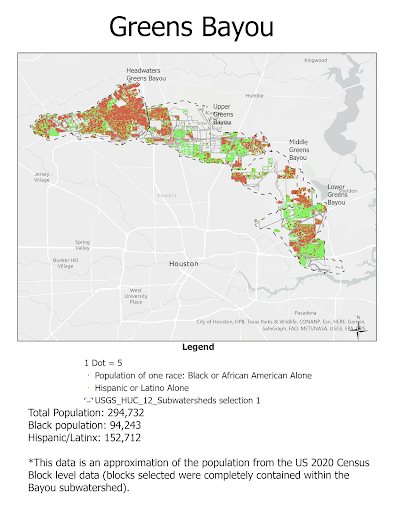 Growing Resilience: Urban Farming in a Diluvial Houston
PI: Cymene Howe, Professor of Anthropology

Houston is a city of hurricanes and deluges; it also ranks among the hottest cities in the country. Combined, these conditions make urban farming both challenging and precarious. Houston is also home to many under-resourced populations—including immigrants, refugees and communities of color—who are particularly vulnerable to the effects of climate change. However, all three of these qualities also make Houston, potentially, a paradigm for the future of urban farming as cities across the country and around the world become hotter and (some) wetter, with the acceleration of climate change. Using ethnographic methods and working with urban farmers, organizations and produce consumers—this research will examine the strategies used to mitigate the harmful effects of a warming climate and severe weather in local farming initiatives. Focusing on sustainable, mid-size agricultural coops and organizations that work with and within marginalized communities, Growing Resilience will gather data on practical techniques and participants' conceptions of sustainability and adaptation. The hypothesis driving the project is that adaptive farming within increasingly extreme climatic conditions serves not only to produce crops for consumption, but is equally an exercise in cultural preservation in the context of multiple vectors of precarity.
---
2020-21
---
Floodplain Reclamation Project
PI: Albert Pope, Gus Sessions Wortham Professor of Architecture

The Floodplain Reclamation Project produces actionable plans for improving Houston's resiliency through restoring its native floodplain's mitigation function. Flood events—most recently Hurricane Harvey in 2017—demonstrate the conflict between Houston's urban and environmental systems. Despite the use of conventional flood-mitigation strategies—defoliation, micro-detention, bridge replacement and the straightening, deepening, widening and lining of the floodway—80,000 structures were flooded in 2017 resulting in $125 billion in damages. Floodplain reclamation proposes a phased series of buyouts and demolitions which clear the floodplain of structures, restores its ecological functions, enhance Houston's network of public open space (Bayou Greenways), while removing its citizens from harm's way. While the research concentrates on Houston, its working methods are transferable to other contexts as templates for urban retreats from sea-level rise or fire zones. These methods map out a general program for growing the city while simultaneously reducing its environmental footprint over the upcoming decades of climate disruption.
Open Ditch Network: Micro design strategies for overlooked green drains in Houston
PI: Amelyn Ng, Wortham Fellow, Rice Architecture

Might flood resiliency, public health, and neighborhood dignity intersect at the scale of a ditch? Taking up Houston's open ditch network as a design research question, this project investigates small-scale ways to retrofit existing surface drainage in flood-prone neighborhoods, particularly those bordering essential services such as food distribution points. Such sites will have to able to deal with periodic flood events, accommodate gatherings, and maintain sanitary conditions. Often the closest "green" sponges to impervious "grey" infrastructure, particularly in low-income neighborhoods, open ditches are known to impede mobility, trap debris and pool water when neglected—disproportionately compromising community health. Short of enclosing hundreds of miles of open drain with underground systems, in what ways can existing ditches and green drains be upgraded—with minimal disruption, no displacement, no building demolition? Focusing on the open ditch network in Kashmere Gardens (Hunting Bayou watershed), the project will produce a catalog of small-scale ditch retrofit + public space strategies, followed by a design study on a sample site. Improving perimeter drainage around essential services could help prepare vulnerable neighborhoods for future flood events, while adding everyday public value to high-access areas. Retrofitting Houston's open ditch network may benefit not just one street, but essential services access for an entire community. Results from "Open Ditch Network" are available as Uneven Runoff.
Exploring Amphibious Acceptance in Diluvial Houston
PI: Dominic Boyer, Professor of Anthropology

Evidence is mounting that more water is coming Houston's way in the form of intensifying rainfall, mounting threats of deadly storm surges from tropical cyclones and the constant if slow-moving problem of sea level rise. Based on the PI's prior NSF funded research on the emotional and epistemic dimensions of relocation decisions among flood victims from Hurricane Harvey, the current proposal asks whether "amphibious acceptance"—meaning the acknowledgement that technopolitical infrastructures of risk minimization and personal ventures of flood defense will likely prove inadequate to cleanly separate dry land and watercourses in the future—is on the rise in Houston. The project has two principal objectives: (1) to assess with greater certainty whether amphibious acceptance is actually gaining greater legitimacy within popular and expert opinion and (2) to better understand how amphibious acceptance might be connected to changes in behavior, planning and decision-making with the ultimate goal of identifying promising trends of urban resilience. The project would conclude with two public-facing initiatives: (1) a public conference sharing project findings in dialogue with international experts in amphibious urbanism and (2) a public mural in a high visibility location to help increase awareness of Houston's amphibious trajectory.
A Cabinet of Curiosities: Collecting Children's Stories about Hurricane Harvey
PI: Gisela Heffes, Associate Professor of Latin American Literature and Culture

In the Introduction to the 2019 book, Allegories of the Anthropocene, Elizabeth M. DeLoughrey suggests that our "increasing awareness of climate change is catalyzing new imaginaries and, by extension, new allegorical forms to address the dynamism of our planet." She illustrates this idea by citing a poem by Kathy Jetñil-Kijiner, a performance poet from the Marshall Islands, who read at the United Nations Climate Summit in 2014 the following words: "tell them about the water— how we have seen it rising / flooding across our cemeteries / gushing over the sea walls / and crashing against our homes." While the poem evokes the impact of sea-level rise on the Pacific Islands, the image of the water "crashing against our homes" is for many of us who have experienced Harvey, extremely similar. Besides bearing witness to one of the many tragedies the ecological crisis has brought about, the poem also establishes a connection between how we learn about and represent the dynamics between peoples and places. Furthermore, the poem, "Tell them," was about the global climate future that Kathy Jetñil-Kijiner imagined for her infant daughter. This story illuminates in many ways the contours of my own research project: to "rescue" Houston Children's stories about Hurricane Harvey while, at the same time, opening a space for "catalyzing new imaginaries." Since children are the future, this project aims to create an audiovisual repository that combines the memories of children that experienced Hurricane Harvey with possible visions for the forthcoming world.